Green Sea Turtle (Chelonia mydas)
Stranding Location: North Myrtle Beach, SC
Arrival Date: 4/4/2017
Age: Juvenile
Weight: 5.70 lbs
Case History
Gill was found stranded on North Myrtle Beach by a morning beach walker. South Carolina Department of Natural Resources (SCDNR) was alerted and volunteer transporter Linda Mataya braved the morning traffic and brought this little green to the Sea Turtle Care Center (STCC) for treatment. Gill arrived lethargic, thin and covered in barnacles, bryozoans and algae. Gill was most likely cold-stunned sometime in mid- March, but did not strand until he became debilitated. Gill's debilitated state coupled with this week's strong storms caused him to wash up into the sand dunes.
Treatment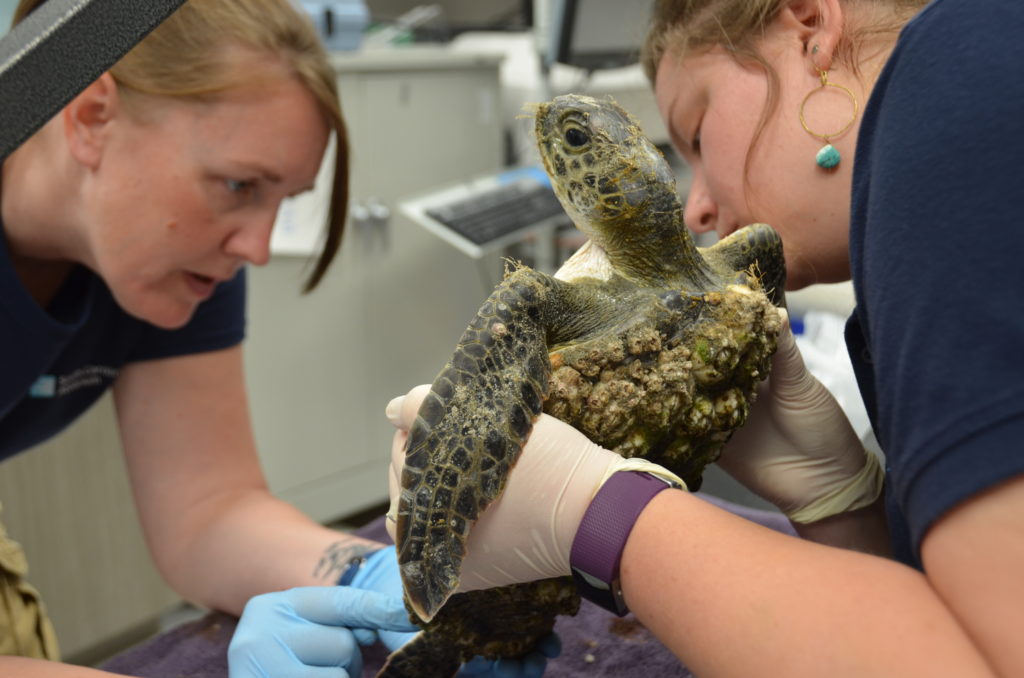 Upon admit, Gill was very lethargic, but responded to touch and had both a normal heart and respiration rate. Gill received a physical exam, bloodwork and a radiograph. Bloodwork results indicated that Gill was severely dehydrated and had a very low glucose (blood sugar) level. Gill's eyes had copious amounts of sand in them and were flushed thoroughly; thankfully, no corneal abrasions were present. Gill was started on a course of antibiotics and received subcutaneous (under the skin) fluids with some vitamins throughout the course of the day. Overnight, Gill was left in our medical facility in a water bed comprised of shallow freshwater and lots of foam padding.
Updates
April 6, 2017: Gill was moved into the Sea Turtle Hospital and placed in a tank with very shallow water. Gill is alert but quiet and is very comfortable in the shallow water. We are monitoring Gill closely. Gill will receive an antibiotic injection biweekly along with a physical exam.
May 3, 2017: Gill remained fairly lethargic for a couple weeks after admission. On April 20, he passed a 3-inch long piece of what appears to be latex balloon. His diet was kept low at 0.5% veggies in order to minimize the risk of an impaction. Gill was routinely taken up to the medical facility for radiographs and tube fed Gastroview for a contrast study. Gastroview is an oral contrast that helps highlight potential gastrointestinal impactions as it moves through the system. This is captured with a series of radiographs taken at different time intervals. Gill is now doing much better, and is able to pass feces reliably. His diet is slowly being increased and his activity level and appetite are both closely monitored.
May 19, 2017: Gill is slowly gaining weight and is on the mend. We are hopeful that with a little more time and lots of veggies he will make a full recovery.
June 5, 2017: Gill is on a quick road to recovery and has recently upgraded to a new tank with a view! This deluxe duplex is shared with none other than Crush, another little green. Gill seems to be really enjoying the new home and spends most of his day gazing longingly out of the tank window for more veggies. Gill's plastron is only slightly concave, indicating that he is gaining weight and beginning to show signs of a healthier body condition.
June 15, 2017: Gill recently received a new tank mate and is now sharing a tank with Crush! Gill continues to gain weight and is responding well to treatment! Hopefully, Gill will be considered for release in the near future!
July 15, 2017: Gill is doing wonderfully! Gill is now gaining weight and will hopefully have the ocean in his sights soon!
August 1, 2017: Gill is doing wonderful! His roommate recently moved out so he has a tank to himself down in the hospital, and he's definitely loving his new space. On August 3, he will be pulled to have his blood checked to see if he is ready to head home. Before we release any of our patients their blood levels have to be stable. His diet has also been increased to help him gain a little move weight before he goes back to the ocean.
August 3, 2017: Gill had some blood work done to see if he was ready to go home yet. His results came back and looked they looked great! All of his blood levels are stable, and he is currently packing his bags for his journey home. Later this week, Gill will be released privately off a boat and into a beautiful saltmarsh area near Kiawah Island. Juvenile Green Sea Turtles, just like Gill, are commonly found in creeks and marsh areas around South Carolina. It's where they feel the most at home with plenty to eat and safety from predators and boats. Although his release will be private, there will be a video of him going back home. Be sure to keep up with his release on our Facebook page so that you can see Gill return back to the big 'ol blue!
Release Date
August 18, 2017
Release Location
Saltmarshes near Kiawah Island